_USED STORAGE TENT
FOR SALE!
Industrial storage tent for sale, used, in great condition, mounted only once.
Manifactured: 03. / 2021.
Dimensions: 25 x 100 / 5,2 m
Total extent: 2.500 m2
PRICE
168.000,00 € + VAT
Click for more details.
Learn more about our offers of tents for hire. Suitable for storage and events.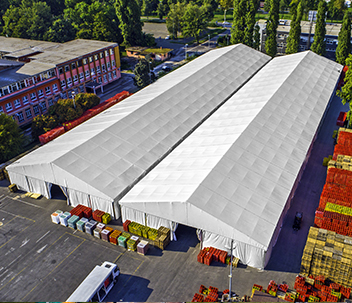 Learn more about our tents and prefabricated halls for sale.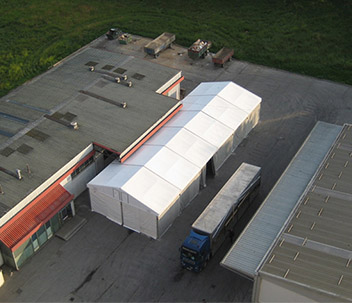 Our offer of used tents, industrial tents, pavilion tents and pagoda tents.
_A 30 YEAR TRADITION THAT'S HERE TO STAY
MARKET LEADER IN SOUTHEAST EUROPE
.

"With a portfolio of more than 110,000 m2 of tents, we are the leading company in this industry in Southeast Europe"
LONG-STANDING TRADITION AND QUALITY
The company has been in business for more than 30 years.Although we are extremely proud of all our achievements so far, we do not want to rest on our laurels. Owing to our extensive experience, know-how, equipment and skilled workforce, our goal is to remain the leading company in thetent hire and sale industry.
EMPLOYEES AS OUR GREATEST ASSET
We currently employ 90 full-time employees and we constantly invest in the growth, development and training of our experts in order to provide top quality products and services to our customers.
PREFABRICATED HALLS FE / ZN
Two new prefabricated halls delivered – 16,5 x 35 / 5 m and 13 x 15 / 5 m.
FE / ZN PREFABRICATED HALLS
We have developed yet another prefabricated hall – 17 x 95 / 6.5 m
PREFABRICATED HALL – HANGAR
We have manufactured and assembled new prefabricated hall with purpose of airplane hangar.
_OUR PRODUCT PORTFOLIO
FEEL FREE TO CONTACT US WITHOUT ANY HESITATION
.
"Kudumija" Family Farm
Located in the village of Babinac on the slopes of Moslavačka gora.
LEARN MORE
Your dream wedding!
Choose this attractive venue for the most important day of your life!
LEARN MORE
Catering and services
We also provide in-house and outsource catering services!
LEARN MORE
Photo gallery
Feel free to view some of our favourite images from our newlyweds!
SEE MORE
_NEWS FROM KUDUMIJA TRADE
FRESH FROM OUR WORKSHOP
.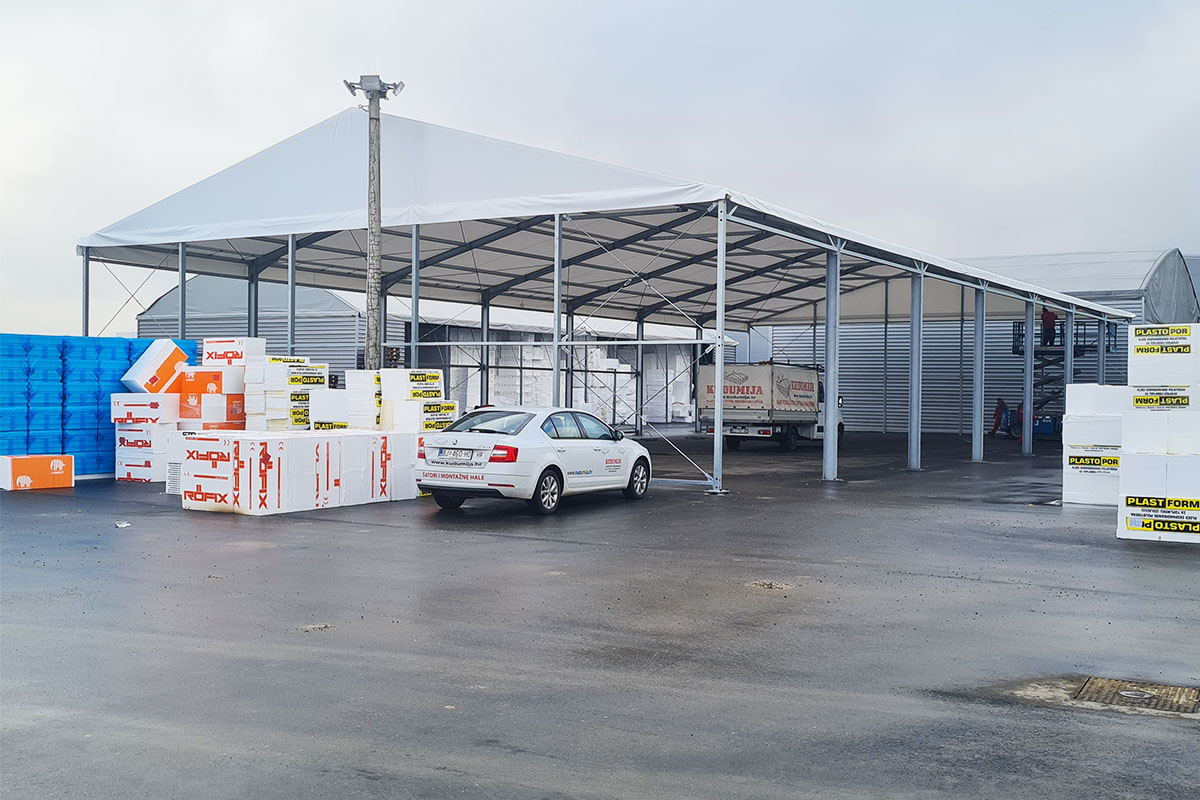 10 new employees joining forces with our successfull international mounting projects team.
Kudumija d.o.o. has strenghtened it's international mounting project team this fall with ten more employees. They will conduct operations in Austria, Switzerland, Germany and Eastern Europe.
We have empowered HGK EXPO fair with our assortment of tents and pagoda tents. This has once more proved the value of private and public sector collaboration. The project lasted for 3 days.
New addition – Spectator seats
Our new portfolio expansion are spectator seats systems. It issmart and highly adjustible solution for both indoor and outdoor events, no matter the scale.
Used storage tent for sale
Industrial storage tent for sale, used, in great condition, mounted only once.
Manufactured: 03. / 2021.
Dimensions: 25 x 100 / 5,2 m
_CONTACT US
WE WILL GLADLY REPLY WITH A QUOTE
For inquiries, please contact our expert and experienced sales team. Do not hesitate to contact us if you need more information about our offer, if you wish to give us a constructive feedback or submit a complaint, or if you simply want to say hello!
_LONG STANDING COOPERATION
OUR PARTNERS
.